Work time tracking software
The IT-Tremmel GmbH timetracking records the working times of employees by stamping in and out.
Components of the timetracking
Our timetracking consists of the following components:
a software for the timetracking panel (platform-independent Java program for Windows, Linux, Mac, etc.). Employees can stamp in and out the timetracking panel with an RFID chip, read out the information via the touch screen of the device and display the current (or consolidated) hourly balance and holiday balance.
a web-based user interface (the "backend"). The accounting staff can enter employee master data, make corrections to working time, and enter days off work and sick days. In addition, the employee monthly report can be viewed for each employee. From the employee monthly report, absence days can be entered directly, overtime can be approved and working times can be corrected.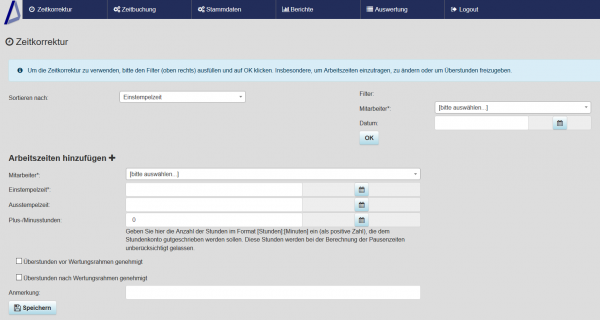 Time correction (one of several ways to correct working times)
Features
Basic configuration
The accounting interface allows you to correct the time of all time stamps and add new time stamps for employees.
Day programs are created for each day of the week for employees. The scoring framework, regular working hours and core working times are stored in these day programs. The comparison of the actual and planned working time (derived from the standard working time) results at the end of the month in the overtime and undertime, which can be seen in the monthly report. If overtime compensated with the salary (per week or per month) is compensated, this is taken into account when calculating overtime or undertime. The monthly report displays the monthly balance, the monthly hour correction (for example, overtime flat rate deduction for paid overtime or conversion of remaining leave into overtime) and the new monthly balance. The monthly report can also be exported or printed to hand it over to employees.
Timetracking for indoor and field service variants
If the time for stamping in or out is more than 30 minutes (time can be adjusted on request) after the evaluation frame, the message "Overtime?" Overtime is only taken into account if they have been explicitly released. The note "Overtime?" is not applicable as soon as overtime has been explicitly rejected.
Within the working hours, only times within the evaluation framework are counted as actual working time.
Timetracking variant field service
The variant for field service assumes that overtime is not subject to approval in the company (overtime work requiring approval is the rule in timetracking variant for internal and field service).
Times outside the scoring framework are also counted as actual working time within the working hours, provided that the times are outside the scoring framework, however, they are marked with the note "Overtime". If overtime has been paid without authorisation, it can be refused retrospectively. Then only the time from the beginning of the scoring frame or until the end of the scoring frame is evaluated.
There are two types of attendance times and working times.
Depending on the duration of the attendance time of the field sales representatives, a time-staggered withdrawal sum (additional catering costs) can be entered in the master data. Under the menu item "Travel expenses accounting", all field service employees are broken down by month, including the total of all payments due. The breakdown of which withdrawal amount was incurred on which day can be found in the monthly report that is linked from the travel expense report.
Operating pauses
Operating breaks can be created company-wide for each individual weekday. For individual employees, special breaks ("special breaks") can also be defined individually for certain days of the week. Service breaks are automatically deducted when calculating the actual working hours. If the operating pause duration is less than the statutory break, the statutory breaks are deducted. The legal mandatory breaks are subtracted by default in a sliding manner, on explicit request a fixed break deduction is also possible.
Example:
Absence of 6h 5min leads to 5 min mandatory break (sliding break deduction)
Absence of 6h 5min leads to 30 min mandatory break (fixed break deduction)
Implemented mandatory break regulation:
30 min compulsory break for from 6 working hours
45 min compulsory break for from 9 working hours
To take into account and stamp additional breaks is possible (e. g. smoking and mobile phone breaks). Employees who are on an additional break can be displayed in real time so that supervisors know where they are.
Error posting report
The erroneous entry report is the central point of contact for checking incorrect entries. In particular, the following are displayed:
Double postings (several failures for one employee per day),
days of illness without certificate of incapacity for work (AU),
unapproved leisure time compensation (FZA) days (if subject to approval) and
Error postings (by month). Wrong entries are days of absence, on which work was nevertheless carried out.
Evaluations
Error days can be displayed in a calendar. Different types of absence tags are displayed in different colors. This calendar can also be integrated into an email client like Outlook via iCal.
In addition, there are reports and evaluations for (numbers and/or diagrams)
Diseases
Fault days by reason for error
Overtime
Hourly and holiday balance
Core working time violations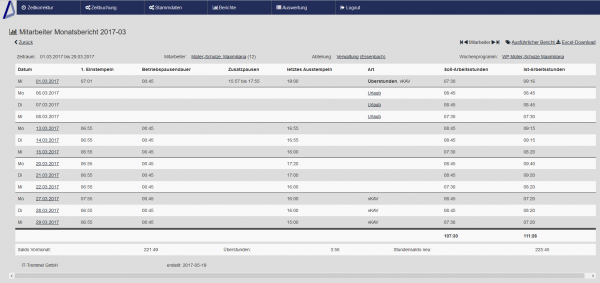 Monthly report including direct correction of errors and working hours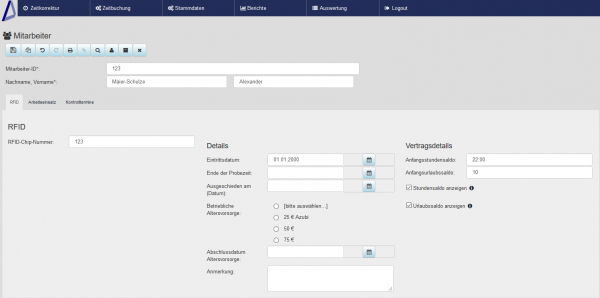 Employee master data (expandable)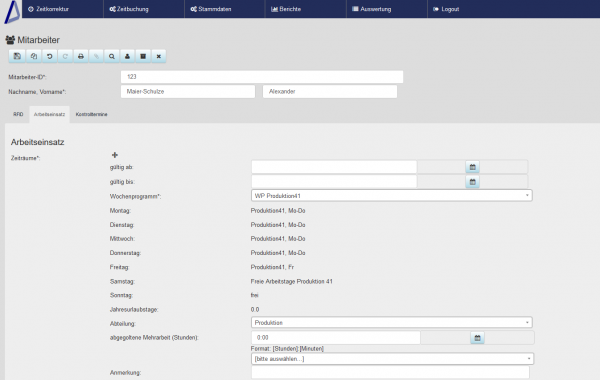 Employee work assignment master data (with validity period)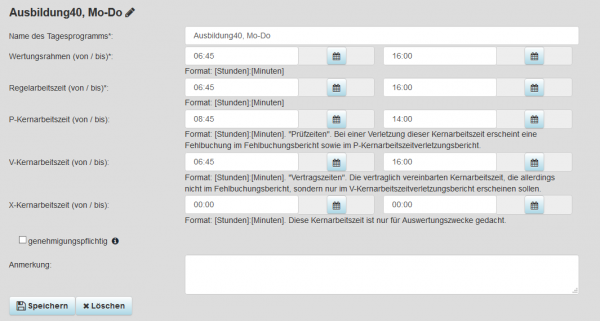 Input mask for employee daily program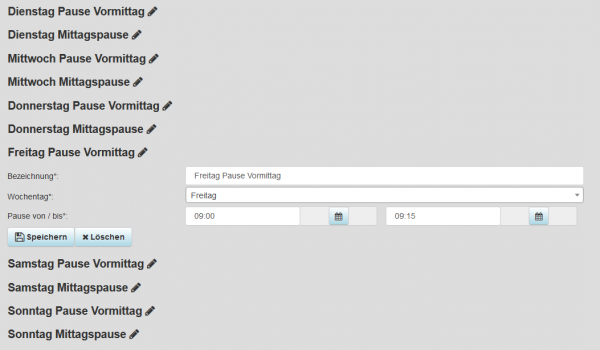 Input mask for operating pauses. Different breaks can also be defined for individual employees.
Add-on modules
Additional modules are not included in the basic equipment, unless otherwise agreed. The surcharge for the additional modules can be requested from IT-Tremmel distribution. A demo version of all add-on modules is often, but not always available.
The integration into a project management or payroll accounting software via an interface is technically possible.
Stamping in by smartphone (e. g. for field staff) is technically possible.
Employees can access the backend to view the monthly report and (if desired by the company) enter or correct master data and/or missing days. Overtime approval by superiors directly via the backend would be possible. Changes made by employees can be activated directly or after the changes have been approved by the accounting department.
The timetracking terminal can also be used as an information terminal or for instructing/remindering employees (e. g. escape plan, labour law information), for displaying or printing monthly reports, etc.
Timetracking panel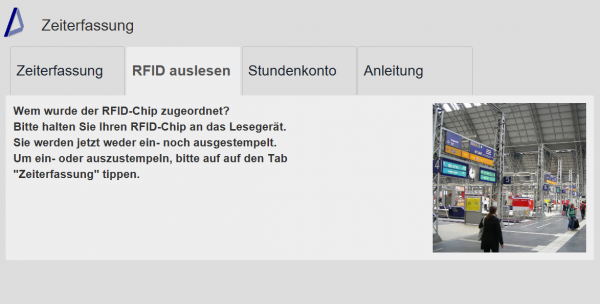 Timetracking at the time and attendance terminal, tab "Read out RFID".
Employees can use an RFID chip to stamp and unstamp their time and attendance at the time recording panel. Stamping of working hours, off-site work, visits to doctors, etc. is possible for employees, provided this function is activated Using the device's touch screen, employees can read out the information that has been assigned to an RFID chip (e. g. a chip that has been found). The current (or consolidated) hourly balance and vacation balance can be displayed via the "Hourly account" tab. Messages can also be entered in the backend for individual or all employees who are displayed on the device. There can be one timetracking panel or several devices (e. g. one at the main entrance of your company, another at the smoking area etc.). Several devices are able to automatically carry out a data synchronisation with each other. Several devices can also be used redundantly. If one of these fails temporarily, it can still be stamped further and after the failure, it can be processed further without further intervention after the fully automatic data synchronisation. The timetracking panel can also be used as an information terminal, for example to display product information, escape route plans, etc.
Advantages over other timetracking systems
Universal adaptability: The advantages of IT-Tremmel GmbH's timetracking are universal adaptability. The aim of the software solution is not to make the software unnecessarily complicated by every conceivable feature as it is used in standard solutions. Because there will always be special requests from customers who cannot be represented in this way. Instead, our developers can realize virtually every wish at a reasonable price. Whether special additional breaks for individual employees or paid breaks only for the weekend, any request can be taken into account for an extra charge. In particular, we can make adjustments that require a lot of manual post-processing by the accounting department or the personnel office, which can be carried out at any time and according to the customer's wishes.optimise.
Security / Privacy
The use of a smartphone app for stamping requires the temporary storage of data in the cloud if this option is booked.
Price information / contractual terms
Timetracking can be rented in the following variants:
Rental version with timetracking panel on site and backend in the cloud:

20.00 EUR per month plus currently valid German VAT for administration of up to 10 employees, extra charge of 20.00 EUR per month plus currently valid German VAT for administration for additional 10 employees
200.00 EUR per month plus currently valid German VAT (support included), administration of up to 100 employees

Rental version with on-site timetracking panel and backend in the customer's server room or combined hardware device for time recording device and backend server
Der Quelltext der Software ist nicht im Preis inbegriffen.
Das Customizing an die jeweils individuellen Anforderungen sowie die Einrichtung/Inbetriebnahme ist in der Mietgebühr nicht inbegriffen, hierfür wird jeweils ein individuelles Angebot erstellt. Die Features der Zeiterfassung, die unter Features ->> "Variante Außendienst" genannt sind, sind nur gegen Aufpreis erhältlich.
Vertragslaufzeit: 6 Monate, zahlbar im Voraus für die gesamte Laufzeit.
Kündigungsfrist: 14 Tage
Ohne Kündigung zum Vertragsende verlängert sich der Vertrag automatisch um die Dauer der Vertragslaufzeit.
For the support of the software and answering questions of employees from the accounting and human resources department, depending on the scope of the assistance to be provided by our company, a monthly software support flat rate or a settlement according to time expenditure can be made.
The regular hourly rate for software support and implementation of additional requests: 55 EUR per hour plus VAT
Hardware requirements
Industrial PC is recommended for the Java software and the MariaDB database (or MySQL). We would be pleased to provide you with a hardware recommendation on request.
An industrial PC with touchscreen or tablet PCs are available between 150 EUR (for private or non-critical use) and 1700 EUR (industrial PC) per device incl. operating system.
All prices plus VAT if not stated otherwise.